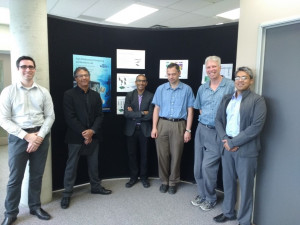 The Centre for Business Analytics and Performance (CBAP) has an ongoing outreach activity that includes work with Integrated Device Technologies on setting up an Open Compute High Performance Computing (HPC) Chapter. 
On June 2, 2016 – Professors from Telfer School of Management and the Faculty of Engineering visited with IDT  to discuss collaboration on the HPC chapter and a number of other possibilities to engage management and engineering students in project work.
According to the IDT team (Devashish Paul, a Telfer MBA grad and masters in applied science in electrical engineering from U of O, Steve Lamontagne, a current Telfer MBA student, and Mohammad Akhter) Ottawa is still a hotbed of telecom skills which can be leveraged to explore innovative ways of creating HPC capabilities. 
---
About CBAP:  The Centre founded in 2010, was initially a collaboration between University of Ottawa and IBM to promote analytic research, has evolved to become a multi-partner Centre.   At the heart of the Centre lies the Government Analytics Network (GAN) that provides federal government employees analytic workshops and presentations.  In addition to these sessions, CBAP connects organizations with professors and students to engage in analytic research and provides access to various analytic software. 
About IDT: "Integrated Device Technology Inc. develops system-level solutions that optimize its customers' applications. IDT's market-leading products in RF, timing, wireless power transfer, serial switching, interfaces and sensing solutions are among the company's broad array of complete mixed-signal solutions for the communications, computing, consumer, automotive and industrial segments. These products are used for development in areas such as 4G infrastructure, network communications, cloud datacenters and power management for computing and mobile devices." 
IDT was founded in 1980 and employees approximately 1,800 worldwide.