Over sixty professors, health professionals, business leaders, civil servants and students gathered at the Telfer School of Management on March 30 to attend an event organized by the Telfer Health Transformation Exchange (THTex) and featuring Dr. Douglas Wood speaking about "innovating health, not healthcare". During his presentation, Dr. Wood, who is cardiologist by training and currently Medical Director for the Center for Innovation at the Mayo Clinic, explained to the audience design thinking at innovation processes that have a sole goal of delivering better health to the patients.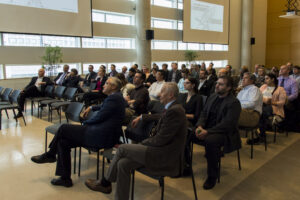 The Mayo Clinic Center for Innovation's experience in transforming how people achieve health offers new insights for delivery system innovation that will help patients and health care professionals.
The key to Mayo's processes, led by designers, is to focus on what people in the community need in terms of health services. ''The real measure of successful design is how well it works (…) and that is what we need in healthcare, that it work and that we work together."
Dr. Wood gave the audience examples of the Mayo Clinic Center for Innovation's successful projects while explaining their design thinking approach and how Center's designers worked to achieve the ''innovation, the integration and navigation of health processes''.
After the presentation, the audience engaged in lively discussion centered around healthcare transformation, new technology and integration of processes with the workplace culture.
Click here for the PDF of the slideshow.
The next seminar will be held on May 18, 2016, when the THTex will welcome Dr. Eric Isselbacher, Director of the Healthcare Transformation Lab at Massachusetts General Hospital in Boston.  He will be speaking on transformation and innovation, using experiences from Mass General.  We look forward to this upcoming event.